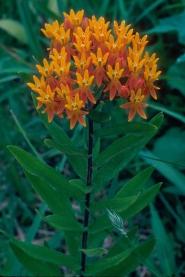 Asclepias tuberosa, or Butterfly weed, is one of the most brilliant and most beautiful of all the American wildflowers. Seen growing in the wild along a hot, dry roadside, or even along a railroad track, it can be a 3' high plant with clusters of vivid orange flowers at the top. In the garden, where it is best planted in masses, it is often 18-24" tall.
Butterflyweed is a member of the Milkweed family. Milkweeds are known as nectar plants for a variety of butterflies. They all produce flowers which are attractive to butterflies. They also all produce their seeds in seed pods, known to everyone who walks through a field or along a roadside in the Fall. Milkweeds are famous as the only plant on which the Monarch butterfly will lay its eggs, and then the caterpillars remain on the plant, devouring its leaves until there is nothing left but the stalk, at which point they just crawl over to the next Milkweed plant and start devouring the leaves of that plant! Common milkweed is the main host in the Finger Lakes Region, but other milkweeds are used here and throughout North America. The Butterflyweed is the only Milkweed which does not produce a "milky" substance in its leaves and stems, which gives the Milkweed family its name.  And so we must conclude that the primary purpose of the Butterflyweed flowers is to feed its nectar to butterflies and to feed the souls of those humans who happen upon it. [Monarchs can successfully reproduce on Butterflyweed, but it is not a favored species. -Ed.]
Butterflyweed is a perennial which is native to much of North America. It is found from Maine to South Dakota, and south to Arizona, Mexico, and Florida. Its main requirement is sun, lots of it, but it will also grow in part sun, albeit not as vigorously. It will grow in almost any soil - acid, neutral, slightly alkaline, sandy, cinders, clay or typical garden soil, dry or moist. Our winters don't seem to bother it in the least.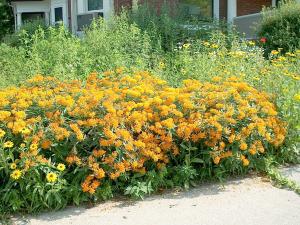 Butterflyweed is highly recommended as a garden plant. Its orange flowers bloom for about a month, mid-June to mid-July. The green stems and leaves are leathery looking and remain attractive. When seed formation takes place, the seeds are inside delicate seed pods and are attractive in their own right. Once established, the plant grows larger each year, but they are never so large that they take over the garden. Plants are widely available in nurseries. Some folks are successful planting seeds harvested from the seed pods, others are not. The mature plants self-sow, and transplanting the small seedlings is always successful. They will not bloom the first year, sometimes not even the second year, but they are well worth waiting for. Our Native Plant Society plant sale in May always has seedlings for sale. It is not recommended that mature plants be transplanted because they have a large taproot which does not take kindly to being moved. And of course, never dig them from the wild.
About
By Merry Jo Bauer
Photos by Robert Wesley, Merry Jo Bauer
Plants Referenced
Common Name(s):
Orange Milkweed
Butterfly Weed
Recommended for gardening
Attracts butterflies