Elizabeth Mulholland
The end of the year seems an appropriate time to formally remember one of the Finger Lakes Native Plant Society's (FLNPS) founding members, Elizabeth Mulholland, who passed away last May at the grand age of 89. In 1997, with Connie Strang and David Werier, she motivated local plant lovers to form a new society, dedicated to the promotion of native plants. She was a dynamic presence on the Steering Committee for the first three years, pushing the fledgling organization to get serious about itself by adopting bylaws, a mission statement, and finally electing officers.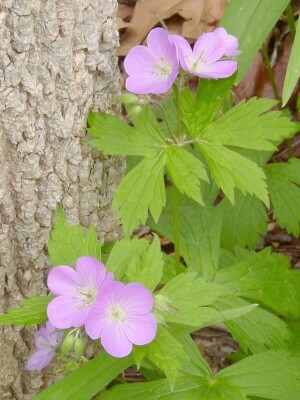 She had a special love for the Six Mile Creek watershed, and was instrumental in protecting the area now known as the Elizabeth Mulholland Wildflower Preserve. At one point she supposedly walked there almost daily, and could point to a spot where a treasured species had bloomed years ago. She hoped that FLNPS would "adopt" Six Mile Creek as a maintenance project, for she was always fussing about careless dog owners, incursions by invasive species, and inadequate funding for what she felt should be done. Sadly, we did not have enough active members to take on such a project at that time. Characteristically, she managed to get such a group organized anyway - the Friends of Six Mile Creek. She remained active on the City of Ithaca Natural Areas Commission, the successor to the Six Mile Creek Advisory Committee, for many years after she stopped attending the evening meetings of FLNPS. We still hand out to new members the checklist of Six Mile Creek flora put together by Elizabeth and Bill Dress.
Elizabeth was the first director of the Dewitt Historical Society (now the History Center), and she arranged for FLNPS to sponsor a wildflower photography exhibit there. She was an expert quilter, and wanted to quilt a banner to hang above the FLNPS table at exhibits and sales, but deteriorating eyesight prevented her from completing this project. An avid gardener, she happily mixed natives and imports. She gave Rosa canina hips to visitors, hoping more people would plant this European shrub rose and was interested in unusual colors of Geranium maculatum. Not a purist, she was thrilled at her first sight of the Heuchera-Tiarellahybrids ("Heucherella" cultivars).
Elizabeth was enthusiastic in sharing her love and knowledge of native plants. She enjoyed leading "ditch walks," exploring the diversity of native and immigrant flora in view right beside the road. The walks were popular, and had the added benefit that she could toss Winterberry (Ilex verticillata) berries in the ditches as she walked, thus "spreading the beauty." One idea of hers, that may still be implemented in some form, was to plant an "Immigrants' Garden" to educate people about the naturalized wildflowers of our area. She used to always bring a vase with nicely arranged invasives to the May plant sale, where she staffed the Natural Areas table. So many informative conversations started with "What is that lovely plant? I see it all over." We often use her trick at our booth!
Elizabeth Mulholland's talents, enthusiasm and hard work were a wonderful gift to the Ithaca community, and she is missed.
Place:
Mulholland Wildflower Preserve